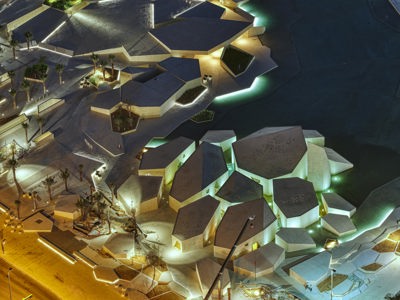 ---
Al Hosn Site – Abu Dhabi, UAE
Department of Culture and Tourism, DCT Abu Dhabi + CEBRA
---
The project reinstates Al Hosn, Abu Dhabi's oldest and most significant heritage structure built c.1760, as the cultural heart of the city. The 140.000 m2 cultural park-scape combines modernity alongside the Emirate's maritime and desert heritage in a coherent narrative that communicates between the site's two contrasting buildings, the historic Fort and the Cultural Foundation, a 1980's Grade 'A' listed cultural centre of Bauhaus origins.
This duality is emphasized by dividing the site diagonally into two contrasting landscapes. A soft, open desert landscape around the fort recreates its original setting as a freestanding landmark on a coastal desert landscape, whereas a paved area with intensified planting around the Cultural Foundation relates the urban landscape of the modern city grid.
The landscapes are connected by a public urban space emerging from formations of cracks and irregular geometric shapes. Together, created an architectural interpretation of Abu Dhabi Island's coastal desert landscape of sandbars, mangroves and the salt flats' the distinctive mud crack patterns. These shapes communicate the transition between the landscape zones as a unifying and scalable design language, rooted in the natural landscape.
The geometries intentionally land between building and landscape, with the tone of the concrete matching the color of the natural sand. Along the central zone, the landscape changes from horizontal planes to slanting surfaces that gradually grow into buildings, culminating with the Musalla prayer hall. All elements merge with the park to appear as one coherent landscape, emphasizing the Fort and the Cultural Foundation as main visual anchors